1908-1909
Sekretær manager Ernest J. Mangnall
Manchester United blev nr.13 i 1 Division


Ialt

k

s

m

J
Bannister

2

18

1

A
Bell

2

28

2

WA
Berry

1

HL
Burgess

2

6

D
Christie

2

JJ
Curry

8

A
Donnelly

1

ALB
Downie

23

R
Duckworth

2

41

JB
Ford

4

HJ
Halse

35

18

HP
Hardman

4

JV
Hayes

28

R
Holden

2

A
Hulme

3

OHS
Linkson

10

GT
Livingstone

13

3

J
McGillivray

2

WH
Meredith

2

1

40

1

HH
Moger

2

44

E
Payne

2

1

JB
Picken

1

14

3

JJ
Quin

1

C
Roberts

2

35

1

GW
Stacey

2

40

E
Thomson

1

A
Turnbull

1

26

9

JM
Turnbull

2

3

30

25

G
Wall

2

1

42

12

TWJ
Wilcox

2
debut
| | | | | | | | | | |
| --- | --- | --- | --- | --- | --- | --- | --- | --- | --- |
| 7 | | september | 1908 | | D | David | Christie | mod | Bury |
| 19 | | september | 1908 | | HP | Harold Payne | Hardman | mod | Manchester City |
| 24 | | oktober | 1908 | | OHS | Oscar Horace S. | Linkson | mod | Nottingham Forest |
| 24 | | oktober | 1908 | | TWJ | Thomas Walter J. | Wilcox | mod | Nottingham Forest |
| 21 | | november | 1908 | | JJ | Joseph J. | Curry | mod | Bradford City |
| 23 | | januar | 1909 | | GT | George Turner | Livingstone | mod | Manchester City |
| 27 | | februar | 1909 | | E | Ernest | Payne | mod | Nottingham Forest |
| 15 | | marts | 1909 | | A | Anthony | Donnelly | mod | Sunderland |
| 31 | | marts | 1909 | | JB | Joseph Bertram | Ford | mod | Aston Villa |
| 3 | | april | 1909 | | JJ | John Joseph | Quin | mod | Sheffield Wednesday |
sidste kamp
| | | | | | | | | | |
| --- | --- | --- | --- | --- | --- | --- | --- | --- | --- |
| 17 | | oktober | 1908 | | A | Aaron | Hulme | mod | Aston Villa |
| 31 | | oktober | 1908 | | E | Ernest | Thomson | mod | Sunderland |
| 12 | | december | 1908 | | HP | Harold Payne | Hardman | mod | Leicester City |
| 9 | | januar | 1909 | | WA | William Alexander | Berry | mod | Middlesbrough |
| 15 | | marts | 1909 | | E | Ernest | Payne | mod | Sunderland |
| 3 | | april | 1909 | | J | John | McGillivray | mod | Sheffield Wednesday |
| 3 | | april | 1909 | | TWJ | Thomas Walter J. | Wilcox | mod | Sheffield Wednesday |
| 17 | | april | 1909 | | D | David | Christie | mod | Leicester City |
dato

modstander
tilskuer
Bane
Målscorer

29

august

1908

Queens Park Rangers

4

-

0

N

60000

CS

Frp

Stamford Bridge

TurnbullJ3 WallG1

5

september

1908

Preston North End

3

-

0

U

18000

LgDiv1

Deepdale

Halse1 TurnbullJ2

7

september

1908

Bury

2

-

1

H

16000

LgDiv1

Bank Street

TurnbullJ2

12

september

1908

Middlesbrough

6

-

3

H

25000

LgDiv1

Bank Street

Halse1 TurnbullJ4 WallG1

19

september

1908

Manchester City

2

-

1

U

40000

LgDiv1

Maine Road

Halse1 TurnbullJ1

26

september

1908

Liverpool

3

-

2

H

25000

LgDiv1

Bank Street

Halse2 TurnbullJ1

3

oktober

1908

Bury

2

-

2

U

25000

LgDiv1

Gigg Lane

Halse1 WallG1

10

oktober

1908

Sheffield United

2

-

1

H

14000

LgDiv1

Bank Street

Bell2

17

oktober

1908

Aston Villa

1

-

3

U

40000

LgDiv1

Villa Park

Halse1

24

oktober

1908

Nottingham Forest

2

-

2

H

20000

LgDiv1

Bank Street

TurnbullA2

31

oktober

1908

Sunderland

1

-

6

U

30000

LgDiv1

Roker Park

TurnbullA1

7

november

1908

Chelsea

0

-

1

H

15000

LgDiv1

Bank Street

14

november

1908

Blackburn Rovers

3

-

1

U

25000

LgDiv1

Ewood Park

Halse1 TurnbullJ1 WallG1

21

november

1908

Bradford City

2

-

0

H

15000

LgDiv1

Bank Street

Picken1 WallG1

28

november

1908

The Wednesday

3

-

1

H

20000

LgDiv1

Bank Street

Halse1 Picken1 TurnbullJ1

5

december

1908

Everton

2

-

3

U

35000

LgDiv1

Goodison Park

Bannister1 Halse1

12

december

1908

Leicester Fosse

4

-

2

H

10000

LgDiv1

Bank Street

Picken1 WallG3

19

december

1908

Voolwich Arsenal

1

-

0

U

10000

LgDiv1

Highbury

Halse1

25

december

1908

Newcastle United

1

-

2

U

35000

LgDiv1

St. James' Park

WallG1

26

december

1908

Newcastle United

1

-

0

H

40000

LgDiv1

Bank Street

Halse1

1

januar

1909

Notts County

4

-

3

H

15000

LgDiv1

Bank Street

Halse2 RobertsC1 TurnbullA1

2

januar

1909

Preston North End

0

-

2

H

18000

LgDiv1

Bank Street

9

januar

1909

Middlesbrough

0

-

5

U

15000

LgDiv1

Ayresome Park

16

januar

1909

Brighton & Hove Albion

1

-

0

H

8300

FACup

R1

Bank Street

Halse1

23

januar

1909

Manchester City

3

-

1

H

40000

LgDiv1

Bank Street

Livingstone2 WallG1

30

januar

1909

Liverpool

1

-

3

U

30000

LgDiv1

Anfield

TurnbullA1

6

februar

1909

Everton

1

-

0

H

35217

FACup

R2

Bank Street

Halse1

13

februar

1909

Sheffield United

0

-

0

U

12000

LgDiv1

Bramall Lane

20

februar

1909

Blackburn Rovers

6

-

1

H

38500

FACup

R3

Bank Street

TurnbullA3 TurnbullJ3

27

februar

1909

Nottingham Forest

0

-

2

U

7000

LgDiv1

City Ground

10

marts

1909

Burnley

3

-

2

U

16850

FACup

R4

Turf Moor

Halse1 TurnbullJ2

13

marts

1909

Chelsea

1

-

1

U

30000

LgDiv1

Stamford Bridge

WallG1

15

marts

1909

Sunderland

2

-

2

H

10000

LgDiv1

Bank Street

Payne1 TurnbullJ1

20

marts

1909

Blackburn Rovers

0

-

3

H

11000

LgDiv1

Bank Street

27

marts

1909

Newcastle United

1

-

0

N

40118

FACup

SF

Bramall Lane

Halse1

31

marts

1909

Aston Villa

0

-

2

H

10000

LgDiv1

Bank Street

3

april

1909

The Wednesday

0

-

2

U

15000

LgDiv1

Hillsborough

9

april

1909

Bristol City

0

-

1

H

18000

LgDiv1

Bank Street

10

april

1909

Everton

2

-

2

H

8000

LgDiv1

Bank Street

TurnbullJ2

12

april

1909

Bristol City

0

-

0

U

18000

LgDiv1

Ashton Gate

13

april

1909

Notts County

1

-

0

U

7000

LgDiv1

The County Ground

Livingstone1

17

april

1909

Leicester Fosse

2

-

3

U

8000

LgDiv1

Filbert Street

TurnbullJ1 WallG1

24

april

1909

Bristol City

1

-

0

U

71401

FACup

F

Crystal Palace

TurnbullA1

27

april

1909

Voolwich Arsenal

1

-

4

H

10000

LgDiv1

Bank Street

TurnbullJ1

29

april

1909

Bradford City

0

-

1

U

30000

LgDiv1

Valley Parade
1. division

hjemme

ude

nr.
klub

k

v

u

t

for

imod

k

u

t

for

imod

point

1
.
Newcastle United
38
14
1
4
32
20
10
4
5
33
21
53
2
.
Everton
38
11
3
5
51
28
7
7
5
31
29
46
3
.
Sunderland
38
14
0
5
41
23
7
2
10
37
40
44
4
.
Blackburn Rovers
38
6
6
7
29
26
8
7
4
32
24
41
5
.
The Wednesday
38
15
0
4
48
24
2
6
11
19
37
40
6
.
Arsenal
38
9
3
7
24
18
5
7
7
28
31
38
7
.
Aston Villa
38
8
7
4
31
22
6
3
10
27
34
38
8
.
Bristol City
38
7
7
5
24
25
6
5
8
21
33
38
9
.
Middlesbrough
38
11
2
6
38
21
3
7
9
21
32
37
10
.
Preston North End
38
8
7
4
29
17
5
4
10
19
27
37
11
.
Chelsea
38
8
7
4
33
22
6
2
11
23
39
37
12
.
Sheffield United
38
9
5
5
31
25
5
4
10
20
34
37

13

.

Manchester United

38

10

3

6

37

33

5

4

10

21

35

37

14
.
Nottingham Forest
38
9
2
8
39
24
5
6
8
27
33
36
15
.
Notts County
38
9
4
6
31
23
5
4
10
20
25
36
16
.
Liverpool
38
9
5
5
36
25
6
1
12
21
40
36
17
.
Bury
38
9
6
4
35
27
5
2
12
28
50
36
18
.
Bradford City
38
7
6
6
27
20
5
4
10
20
27
34
19
.
Manchester City
38
12
3
4
50
23
3
1
15
17
46
34
20
.
Leicester Fosse
38
6
6
7
32
41
2
3
14
22
61
25
Back row: A Downie, H Burgess.
Standing: H Taylor (Director), Nuttall (Asst. Trainer), H Stafford (Director), H Broomfield, G Stacey, R Duckworth, R Holden, A Bell, H Moger, F Bacon (Trainer), E Mangnall (Secretary).
Seated: J Picken, J Bannister, J Turnbull, C Roberts, H Halse, A Turnbull.
Front: W Meredith and G Wall.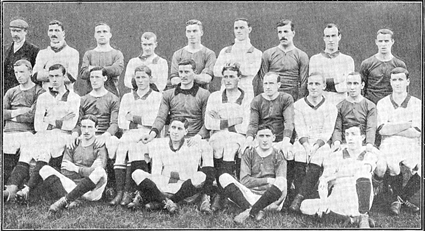 Back row: F Bacon (Trainer), W Meredith, J Curry, J Bannister, A Bell, T Wilcox, G Stacey, J Picken, Semple.
Middle row: D Christie, O Linkson, D Duckworth, K Whiteside, H Moger, J Turnbull, H Burgess, Axcell, W Berry, V Hayes.
Front row: H Halse, G Wall, T Wall and J McGillivray.