1911-1912
Sekretær manager Ernest J. Mangnall
Manchester United blev nr.13 i 1 Division


Ialt

k

s

m

GW
Anderson

1

A
Bell

39

SP
Blott

6

A
Capper

1

A
Donnelly

13

R
Duckworth

33

H
Edmonds

37

HJ
Halse

31

18

M
Hamill

17

1

J1
Hodge

10

LB
Hofton

8

R
Holden

8

TP
Homer

1

F
Knowles

7

OHS
Linkson

25

GT
Livingstone

1

P
McCarthy

1

WH
Meredith

42

3

HH
Moger

6

TAB
Nuttall

6

2

C
Roberts

38

2

EJ
Royals

2

J
Sheldon

5

GW
Stacey

36

2

A
Turnbull

37

11

G
Wall

40

5

EJ
West

38

23

A
Whalley

6

selvmål

1
debut
| | | | | | | | | | |
| --- | --- | --- | --- | --- | --- | --- | --- | --- | --- |
| 9 | | september | 1911 | | GW | George Walter | Anderson | mod | Everton |
| 16 | | september | 1911 | | M | Michael | Hamill | mod | West Bromwich Albion |
| 20 | | januar | 1912 | | P | Patrick | McCarthy | mod | West Bromwich Albion |
| 23 | | marts | 1912 | | A | Alfred | Capper | mod | Liverpool |
| 23 | | marts | 1912 | | TAB | Thomas Albert B. | Nuttall | mod | Liverpool |
| 23 | | marts | 1912 | | EJ | Ezra John | Royals | mod | Liverpool |
| 30 | | marts | 1912 | | F | Frank | Knowles | mod | Aston Villa |
sidste kamp
| | | | | | | | | | |
| --- | --- | --- | --- | --- | --- | --- | --- | --- | --- |
| 2 | | september | 1911 | | TP | Thomas Percy | Homer | mod | Manchester City |
| 20 | | januar | 1912 | | P | Patrick | McCarthy | mod | West Bromwich Albion |
| 23 | | marts | 1912 | | A | Alfred | Capper | mod | Liverpool |
| 5 | | april | 1912 | | HJ | Harold James | Halse | mod | Arsenal |
| 13 | | april | 1912 | | H | Hugh | Edmonds | mod | Sheffield United |
| 29 | | april | 1912 | | HH | Harry Herbert | Moger | mod | Blackburn Rovers |
dato

modstander
tilskuer
Bane
Målscorer

2

september

1911

Manchester City

0

-

0

U

35000

LgDiv1

Maine Road

9

september

1911

Everton

2

-

1

H

20000

LgDiv1

Old Trafford

Halse1 TurnbullA1

16

september

1911

West Bromwich Albion

0

-

1

U

35000

LgDiv1

The Hawthorns

23

september

1911

Sunderland

2

-

2

H

20000

LgDiv1

Old Trafford

Stacey2

25

september

1911

Swindon Town

8

-

4

N

10000

CS

F

Stamford Bridge

Halse6 TurnbullJ1 WallG1

30

september

1911

Blackburn Rovers

2

-

2

U

30000

LgDiv1

Ewood Park

West2

7

oktober

1911

The Wednesday

3

-

1

H

30000

LgDiv1

Old Trafford

Halse2 West1

14

oktober

1911

Bury

1

-

0

U

18000

LgDiv1

Gigg Lane

TurnbullA1

21

oktober

1911

Middlesbrough

3

-

4

H

20000

LgDiv1

Old Trafford

Halse1 TurnbullA1 West1

28

oktober

1911

Notts County

1

-

0

U

15000

LgDiv1

County Ground

TurnbullA1

4

november

1911

Tottenham Hotspur

1

-

2

H

20000

LgDiv1

Old Trafford

Halse1

11

november

1911

Preston North End

0

-

0

H

10000

LgDiv1

Old Trafford

18

november

1911

Liverpool

2

-

3

U

15000

LgDiv1

Anfield

RobertsC1 West1

25

november

1911

Aston Villa

3

-

1

H

20000

LgDiv1

Old Trafford

RobertsC1 West2

2

december

1911

Newcastle United

3

-

2

U

40000

LgDiv1

St. James' Park

Halse1 West2

9

december

1911

Sheffield United

1

-

0

H

12000

LgDiv1

Old Trafford

Halse1

16

december

1911

Oldham Athletic

2

-

2

U

20000

LgDiv1

Boundary Park

TurnbullA1 West1

23

december

1911

Bolton Wanderers

2

-

0

H

20000

LgDiv1

Old Trafford

Halse1 TurnbullA1

25

december

1911

Bradford City

0

-

1

H

50000

LgDiv1

Old Trafford

26

december

1911

Bradford City

1

-

0

U

40000

LgDiv1

Valley Parade

West1

30

december

1911

Manchester City

0

-

0

H

50000

LgDiv1

Old Trafford

1

januar

1912

Voolwich Arsenal

2

-

0

H

20000

LgDiv1

Old Trafford

Meredith1 West1

6

januar

1912

Everton

0

-

4

U

12000

LgDiv1

Goodison Park

13

januar

1912

Huddersfield Town

3

-

1

H

19579

FACup

R1

Old Trafford

Halse1 West2

20

januar

1912

West Bromwich Albion

1

-

2

H

8000

LgDiv1

Old Trafford

WallG1

27

januar

1912

Sunderland

0

-

5

U

12000

LgDiv1

Roker Park

3

februar

1912

Coventry City

5

-

1

U

17130

FACup

R2

Highfield Road

Halse2 TurnbullA1 WallG1 West1

10

februar

1912

The Wednesday

0

-

3

U

25000

LgDiv1

Hillsborough

17

februar

1912

Bury

0

-

0

H

6000

LgDiv1

Old Trafford

24

februar

1912

Reading

1

-

1

U

24069

FACup

R3

Elm Park

West1

29

februar

1912

Reading

3

-

0

H

29511

FACup

R3rp

Old Trafford

Halse1 TurnbullA2

2

marts

1912

Notts County

2

-

0

H

10000

LgDiv1

Old Trafford

West2

9

marts

1912

Blackburn Rovers

1

-

1

H

59300

FACup

R4

Old Trafford

Walmsley1OG

14

marts

1912

Blackburn Rovers

2

-

4

U

39296

FACup

R4rp

Ewood Park

West2

16

marts

1912

Preston North End

0

-

0

U

7000

LgDiv1

Deepdale

23

marts

1912

Liverpool

1

-

1

H

10000

LgDiv1

Old Trafford

Nuttall1

30

marts

1912

Aston Villa

0

-

6

U

15000

LgDiv1

Villa Park

5

april

1912

Voolwich Arsenal

1

-

2

U

14000

LgDiv1

Highbury

TurnbullA1

6

april

1912

Newcastle United

0

-

2

H

14000

LgDiv1

Old Trafford

9

april

1912

Tottenham Hotspur

1

-

1

U

20000

LgDiv1

White Hart Lane

WallG1

13

april

1912

Sheffield United

1

-

6

U

7000

LgDiv1

Bramall Lane

Nuttall1

17

april

1912

Middlesbrough

0

-

3

U

5000

LgDiv1

Ayresome Park

20

april

1912

Oldham Athletic

3

-

1

H

15000

LgDiv1

Old Trafford

WallG1 West2

27

april

1912

Bolton Wanderers

1

-

1

U

20000

LgDiv1

Burnden Park

Meredith1

29

april

1912

Blackburn Rovers

3

-

1

H

20000

LgDiv1

Old Trafford

Hamill1 Meredith1 West1
1 division

hjemme

ude

nr.
klub

k

v

u

t

for

imod

k

u

t

for

imod

point

1
.
Blackburn Rovers
38
13
6
0
35
10
7
3
9
25
33
49
2
.
Everton
38
13
5
1
29
12
7
1
11
17
30
46
3
.
Newcastle United
38
10
4
5
37
25
8
4
7
27
25
44
4
.
Bolton Wanderers
38
14
2
3
35
15
6
1
12
19
28
43
5
.
The Wednesday
38
11
3
5
44
17
5
6
8
25
32
41
6
.
Aston Villa
38
12
2
5
48
22
5
5
9
28
41
41
7
.
Middlesbrough
38
11
6
2
35
17
5
2
12
21
28
40
8
.
Sunderland
38
10
6
3
37
14
4
5
10
21
37
39
9
.
West Bromwich Albion
38
10
6
3
23
15
5
3
11
20
32
39
10
.
Arsenal
38
12
3
4
38
19
3
5
11
17
40
38
11
.
Bradford City
38
12
3
4
31
15
3
5
11
15
35
38
12
.
Tottenham Hotspur
38
10
4
5
35
20
4
5
10
18
33
37

13

.

Manchester United

38

9
5
5
29
19

4

6

9

16

41

37
14
.
Sheffield United
38
10
4
5
47
29
3
6
10
16
27
36
15
.
Manchester City
38
10
5
4
39
20
3
4
12
17
38
35
16
.
Notts County
38
9
4
6
26
20
5
3
11
20
43
35
17
.
Liverpool
38
8
4
7
27
23
4
6
9
22
32
34
18
.
Oldham Athletic
38
10
3
6
32
19
2
7
10
14
35
34
19
.
Preston North End
38
8
4
7
26
25
5
3
11
14
32
33
20
.
Bury
38
6
5
8
23
25
0
4
15
9
34
21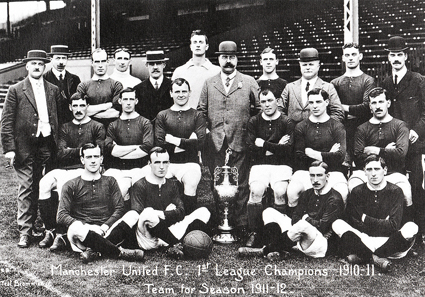 Back row: E Mangnall (Secretary), F Bacon (Trainer), J Picken, H Edmonds, Mr Murray (Director), H Moger, T Homer, Mr Lawton (Director), A Bell, Mr Deakin (Director).
Middle row: W Meredith, D Duckworth, C Roberts, J E Davies (President), A Turnbull, E West, G Stacey.
Front row: A Whalley, L Hoften, H Halse and G Wall.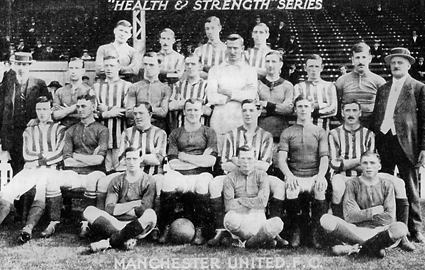 Back row: S Blott, H Halse, J Nuttall, G Wall.
Middle row: F Bacon (Trainer), G Anderson, A Donnelly, L Hoften, J Hodge, H Moger, H Edmonds, A Whalley, G Stacey, E Mangnall (Manager).
Front row: O Linkson, A Bell, A Turnbull, C Roberts, E West, T Homer, W Meredith.
Sitting: R Duckworth, J Sheldon and T Nuttall.